Tattoo Removal
For some, tattoos are a vital form of self-expression. But old tattoos can go on expressing themselves too long after we, ourselves, have changed. Contrary to popular belief, tattoos are not as permanent as advertised. With a laser tattoo removal from Paragould Plastic, you can get on with your life without that unsightly ink dragging you down.
Laser tattoo removal works by targeting the pigment of a tattoo with intense beams of light. The laser light breaks up and scatters the ink pigments buried just beneath your skin. Beyond that, the body takes care of the rest by breaking down and discarding the pigment through natural daily processes. If you're looking for a new lease on a fresh patch of skin, laser tattoo removal at Paragould Plastic may be right for you.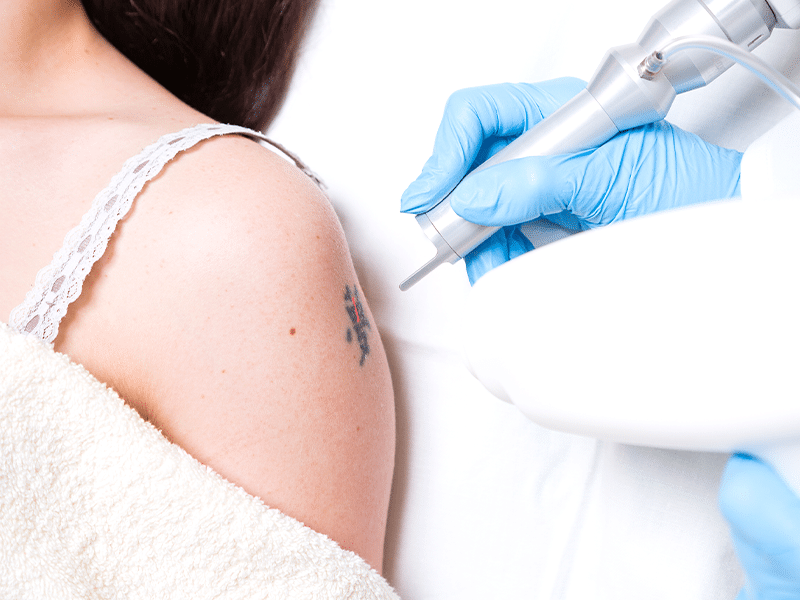 Who's eligible?
Most people with an undesirable tattoo are eligible for laser tattoo removal. Non-smokers who are in generally good health are ideal candidates for the laser tattoo removal procedure. It's also important to have realistic expectations. When compared to other treatments, laser tattoo removal provides a more comprehensive result.
Tattoo regret is probably as old as tattooing itself. While balms, lotions, and other treatments exist for removing tattoos, most cause more damage to the skin or less damage to the tattoo. Laser tattoo removal has numerous benefits for ideal candidates, among them:
Benefits of Tattoo Removal
Tattoo Removal FAQ
Most patients describe the laser tattoo removal procedure as hurting less than the tattoo itself. The light required to break up the subcutaneous pigments can be intense. Some mild pain and discomfort can be expected and mitigated through topical treatments and pain management during the procedure.
With the laser tattoo removal procedure, the risk of scarring is low. Compared to other tattoo removal methods, laser tattoo removal has the lowest risk of causing or creating skin damage. The procedure's efficacy is down to the precisely adjusted laser light, tuned to avoid damage to anything other than the ink pigments.
The number of recommended treatments changes from patient to patient. All tattoos are different and feature different pigments, designs, and sizes. While laser tattoo removal can take care of tattoos of all types, larger, more intricate, or more colorful tattoos may take more appointments than smaller, simple tattoos.